Spring is here, and with it, not only new fabulous pieces to wear, but also... flirts!
The boys from
blicKlick
, a growing flirting platform for universities asked me to join our forces to write together a post on the hottest trends to flirt this season. How could I have refused? Here is the product of the ...flirting between
blicKlick
and
GvN
Fashion Style Blog.



*** *** ***

*** *** ***

*** *** ***

*** *** ***

blicKlick
: Fashion and flirting are two sides of the same coin. Who does not think a few seconds (or maybe even minutes... =) in the morning on what to wear to look good? Who does not love to get a compliment, flirt or comment about the way you look, your new earrings or outfit you just got?
GvN
: Only a few minutes ;) ?! Sometimes it takes me a month to create ONE outfit ;)!
Flirting is a matter of self-confidence. One who doesn't feel good in his skin AND clothes is just not able to take a chance and start flirting with the person he/she likes. Try to flirt in a monkey costume! Tell me, can you do that? Now take a well polished and fashionable outfit...much better, right? Fashion and flirting go hand in hand...no doubt about that!
blicKlick
: ...Wow, still thinking about the one-month outfit....! But well, we went together with
GvN
through hundreds of flirts from the different universities looking for trends of what people were wearing when they got a flirt. We then looked at the number of likes they got from the
blicKlick
community and picked the highest ones! (yeah, we're all still engineers and can't help doing some data analysis!) We have put together our findings in 3 tips to help you pick the most fashionable outfits for flirting... in less than a month! =)
GvN
&
blicKlick
: This will help you know how to wear this spring to flirt as much as possible! Enjoy!
1.- Bright colors are attractive - red is the killer by excellence!
Red, 55 likes
@Zhdk: weiblich, rothaarig
Lady in reeeed!!!
Yellow, 47 likes
@Uni mensa: weiblich, blond
I saw you again yesterday...you were wearing a yellowish golden jumper, a golden bracelet and red round earrings.....Well I am still up at 3AM...you've seriously damaged me :(
Green: 53 likes
@Lichthof: männlich, schwarzhaarig
Hast immer eine grün glänzende Snowboardjacke an und siehst einfach hammer aus mit deinem exotischen Kleiderstil: Willst du mal einen Kaffee trinken, sitze immer bei der Statue.
Green: 31 likes
@lichthof: weiblich, braunhaarig
hast n neues macbook air und bis nur auf facebook. ich sitze ein paar tische hinter dir mit grünem lacoste shirt (kragen natürlich oben). von hinten siehst du ganz süss aus! würde dich gerne mal von vorne sehen
Bright colors are definitely an eye-catcher. Logically, those who wear them, will have more chance to be noticed and to thus increase the possibility to attract other people. Lack of color in one's wardrobe can mean a lack of self-esteem. Someone with low self-confidence will not want to be noticed, which is why he/she would most probably try to stay anonymous by wearing dark and gloomy colors all the time. For those of you who never dare, this is the moment to step outside your comfort zone! This Spring's collections scream color like they haven't in along time! Fluorescent colors and joyful pastels are to be found everywhere in fashion right now, as shown by the pictures below. Red, in particular, is the color of sex and power. This is why a woman wearing red (especially a feminine dress) has always been a men's fantasy.

Zara, Men's Collection, SS 2011

Hermès, Balenciaga, Christian Dior, Women's Collection, SS 2011

2.-
Top Accessoires Flirts:
Sonnen brille: 38 likes
@b-mensa: weiblich, blond
Hey sexy. Du mit brauner rayban-brille.lust auf kaffee?
Schwarze stofftasche, 41 likes
@lichthof: weiblich, braunhaarig
du (schwarzi stofftäsche, super schöni auge) machsch grad krüzworträtsel im 20min ganz elai amne tisch.ich sitz ca. 3 tisch vor dir, am laptop. ich wünschti du würdisch blicklick benutze
Gilet, 38 likes
@lichthof: weiblich, braunhaarig
du bisch im liechthof,mit 3kollegine am 12.30 und emene kolleg! hesch en haarreif an, en schwarze pulli und en beige glismete gilet!studiersch glaubs jus! date?
Accessories give personality to your outfit. No wonder that there are so many quotes regarding accessories written in
blicKlick
! An accessory can be noticed even more than the t-shirt or the trousers one has on. And that's what people will remember somebody for, if that person gives them a great one to look at ;)! That's a fact that cool sunnies and a statement belt and fashionable shoes are appeal factors in a man. The same can be said for big earrings and high heels or even the color of the nail polish worn by women. This season, things haven't really changed for men. Wayfarer and aviator sunglasses are still rocking! Moreover, I personally find guys with a cool scarf and a panama or fedora hat really hot! For the girls: wedges are more fashionable than ever right now!!! They are a really smart trend since they give you that extra inch and will help you survive with high heels through the day. Perfect!
A simple but stylish fedora hat and a cool scarf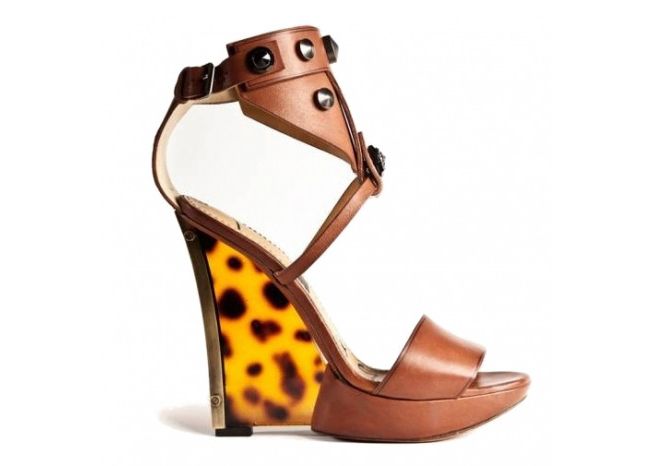 Lanvin, Women's collection, SS 2011
3.- Timelessly fashionable....
48 likes
@liechthof: weiblich, blond
wer isch die schöni flyerin gsi mit de blonde haar??? du hesch obe flyers vo blicklick verteilt! super schöns smile!!
43 likes
@Internationale Politik: weiblich, rothaarig
Du sitzt mir gegenüber und verzauberst mich mit deinem Lächeln... Dank dir bleib ich gern noch 2 hs...
32 likes
@lichthof: weiblich, braunhaarig
schwarze stiefel, 2 taschen. eher klein gebaut. weisse haut. WOw! du hast mich grad angekuckt und ich habe zurückgelächelt!
Our last tip is something that cannot be found in the stores, fits perfectly to spring, comes for free and everyone has it already in it's very special way: a big beautiful smile!
Most of the top liked flirts mention a smile. So dress up, smile and flirt this spring :)!
Timeless beauty